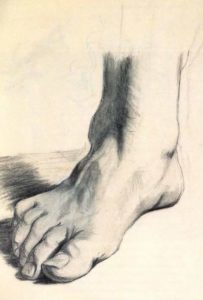 26 BONES in each (ONE-QUARTER of the bones in the human body are in the feet.)
33 JOINTS
Over 100 MUSCLES, TENDONS AND LIGAMENTS
(Not to mention a network of blood vessels, nerves, skin, and soft tissue.)
If that's not impressive, know that all these components must work in perfect dynamic and supportive harmony to ensure they provide stability balance and mobility for the human body.And just to crank it up further, the foot will SUPPORT in total OVER A TON in weight during propulsive impact forces when undertaking only one mile of a run.
---
The ankle joint or talocrural joint is the only joint coupled with the subtalar joint allow for plantar and dorsiflexion and inversion and eversion. These movements along with complex articulations further down the foot, allow us the most taken for granted movement that we are essentially designed for as BIPEDALS and that is to WALK.
---
The foot has three ARCHES:
two longitudinal (medial and lateral) arches
one anterior transverse arch.
They are formed by the tarsal and metatarsal bones, and supported by ligaments and tendons in the foot. The collective make up of these structures allow our feet to act as SHOCK ABSORBERS as we hit the ground during walking and running gait.
---
Moving seamlessly to "TOE OFF" The first metatarsal joint or big toe, ARGUABLY THE MOST IMPORTANT JOINT IN THE BODY DURING GAIT, dorsi-flexes and plantar flexes to allow forward motion.
---
Through the process of evolution the human foot is quite simply a biomechanical masterpiece.
https://www.nickcowanosteopath.co.uk/wp-content/uploads/2019/02/foot-image-e1551198340124.jpg
397
430
Nick
https://www.nickcowanosteopath.co.uk/wp-content/uploads/2017/12/nickcowan-logo-header-1-300x93.png
Nick
2019-02-26 11:10:59
2019-02-26 16:26:51
THE FOOT AND ANKLE- BY THE NUMBERS